New Improved (i) Solo 400i - Features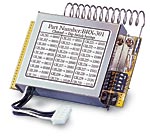 Synthesized RF
Our receiving unit is equipped with a PLL synthesized RF module with 30 user-selectable channels (frequencies) adjusted via simple dip switch settings. The RF module includes an internal antenna for your convenience. Our optional high gain external antenna is available at additional cost.
32,769 Unique ID Codes
The encoder/decoder system utilizes advanced microprocessor control. The availability of 32,768 sets of unique ID codes will ensure that only commands from the matching control transmitter can be carried out without any interference from other radio systems.


Main Safety Relay
For added safety our advanced design utilizes a special Safety Relay for the Main EMS circuit. If the receiver MAIN relay is defective (Example: Fails to open in response to a Stop command) a fault will be detected and the system will shutdown (open) all output relays immediately.


Waterproof & Durable
The transmitter and receiver enclosures are fully sealed to prevent ingress of dust, water, oil, grease, alkaline and acids (not intended for submerged operation). Enclosures are manufactured from high grade composite materials that are resistant to high impacts and deformation due to long term exposure to heat, sunlight and harsh environments.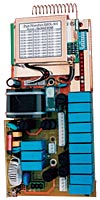 Total Solution

Prewired receiver with 6 foot multi-conductor cable, numbered wires with terminals, cable grip and detailed schematic on the receiver face. Our total solution reduces the installation time, no other pre-assembly or purchases are required.

No Site License Required
All systems are in full compliance with the FCC Part-15 Rules, European Directives (CE/CB) and Industry Canada specifications. No site license is required.



One Year Guarantee
Warranted against defects in materials and workmanship for one year from the date of purchase, parts only, contact the factory for details.