Alpha 500 Series - Features



One Million Press Cycle
Custom designed 2-step pushbuttons are extremely durable and reliable for a minimum of up to one million press cycles. Unlike most of the 2-step pushbuttons available from other radio control manufacturers, these pushbuttons are easily manipulated even when the operator is wearing gloves. The snap action pushbutton provides positive tactile feedback to the operator.
Ultra Lightweight
Our keypad button arrangement results in a transmitter that is ultra lightweight and compact in design. This optimized design is 50% smaller than competitive models and much easier to carry and operate. Four and six button transmitters are furnished with holsters, 10 button transmitters are furnished with a waist belt.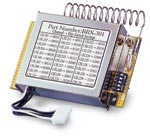 Synthesized RF
Our receiving unit is equipped with a PLL synthesized RF module with 30 user-selectable channels (frequencies) adjusted via simple dip switch settings. The RF module includes an internal antenna for your convenience. Our optional high gain external antenna is available at additional cost.
Waterproof & Durable
The transmitter and receiver enclosures are fully sealed to prevent ingress of dust, water, oil, grease, alkaline and acids (not intended for submerged operation). Enclosures are manufactured from high grade composite materials that are resistant to high impacts and deformation due to long term exposure to heat, sunlight and harsh environments.


No Site License Required
All systems are in full compliance with the FCC Part-15 Rules, European Directives (CE/CB) and Industry Canada specifications. No site license is required.


One Year Guarantee
Warranted against defects in materials and workmanship for one year from the date of purchase, parts only, contact the factory for details.