New Improved (i) Solo 400i Series - Description

100% Error Free Transmission
Advanced microprocessor with highly evolved software that has redundant error checking and correcting capabilities to ensure 100% error-free transmission, decoding, and control of all output relays. This highly evolved software includes advanced CRC (Cyclical Redundancy Check) and Hamming Code Error (Error Recovery) programming.

Safe Design
Safety features include receiver self-diagnosing, transmitter self-diagnosing long travel startup warning, transmitter low-voltage detection and warning, transmitter and receiver MAIN deactivation when the transmitter is not in use, during transmitter low-voltage, and when the system is in sleep mode.


One Million Press Cycle
Custom designed 2-step pushbuttons are extremely durable and reliable for a minimum of up to one million press cycles. Unlike most of the 2-step pushbuttons available from other radio control manufacturers, these pushbuttons are easily manipulated even when the operator is wearing gloves. The snap action pushbutton provides positive tactile feedback to the operator.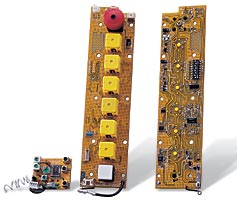 Familiar Pendant Design
Our transmitter design mimics existing push button pendants making it instantly familiar to operators all over the world. Its lightweight and compact design is easy to carry and operate. Transmitters are furnished with belt clips and a suspension bracket is also supplied for fixed installations.


200 Hour Battery Life
Efficient power saving circuit requires only three "AA" type alkaline batteries. The battery life is good for more than 200 hours of continuous operation between battery replacements, which ensures higher productivity in the workplace by minimizing frequent replacement or recharging of batteries.