Alpha 3000 Series - Features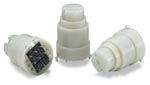 Industry's Best 3-Speed Pushbutton
Custom in-house designed 3-speed pushbuttons are extremely durable and reliable for a minimum of one million depress cycles. Unlike most 3-speed pushbuttons available from other radio control manufacturers, these buttons are easily manipulated even when the operator is wearing gloves. Our snap-action pushbuttons provide positive tactile feedback to the operator.
100% Sealed
Both transmitter and receiver enclosures are 100% sealed ensuring trouble free operation in high moisture environments and outdoor applications, both IP66 rated. To further enhance reliability the receiver enclosure is fully painted inside and out, the door is fully sealed with a gasket and the hinges and key lock are stainless steel.



Our Longest Battery Life
Our Alpha 3000 transmitters were designed with battery conservation circuitry providing 250 hours of continuous operation using four off-the-shelf "AA" alkaline batteries. Our extremely long battery life eliminates the need for expensive proprietary batteries and chargers.
Modular Receiver
The modular design of our receiver makes servicing the components a snap. The RF receiving module, decoder module, upper/lower relay boards, and power transformer are all placed independently inside the metal enclosure. The external _ wave antenna screws on from the outside and is equipped with internal quick disconnect fittings.



Full Compliance
The Alpha 3000 Series are designed and manufactured in accordance with the FCC Part-15 Rules, European Directives (CE/CB) and Industry Canada (IC); designed and manufactured by an ISO 9001 certified company.
One Year Guarantee
Warranted against defects in materials and workmanship for one year from the date of purchase, parts only, contact the factory for details.